Recent Posts
21
One of Nigeria's most successful actresses, Funke Akindele Bello, who is also a producer, has bought a new ride.
The actress is now the proud owner of a Lexus SUV.
She shared a photo of herself posing beside the new ride on her Instagram page.
Her husband, JJC Skillz also took to his Instagram page to congratulate his wife. He posted a video of the woman and her car.

Watch below:
22
Operatives of the Lagos Zonal Office of the Economic and Financial Crimes Commission, EFCC arrested 27suspects involved in cybercime in Lagos state.
The suspects are: David Promise, Cyril Okodogbe, Taiwo Femi, Jasa Oghenerwede Frank, Adesokan Ibrahim, Femi Emmanuel Phillip, Jimoh Olayinka Alimi, Anene Dominic, Victor Damola, Israel Attah, Alonge Oluwadamilare, Muhammadu Sani Garba, Luis Fred, and Adu Olaoluwa.
Others are: Precious Utomi, Oladosu Samuel, Andrew John, Olayiwola Ojo, Ekong Samuel Enobong, Oluwakemi Ezekiel, Okewole Segun, Olawale Adekunle, Ajibade Idris Adeniyi, Imeobong-Odion Promise, Karaole Lateef, Rowland Emmanuel, and Nelson Lucky.
They were arrested on April 9, 2021, in the Ayobo-Ipaja area of Lagos State, following intelligence received by the Commission about their alleged involvement in computer-related fraud
Items recovered from the suspects during their arrest include mobile phones, laptop computers, and exotic cars.
According to EFCC, the suspects will soon be charged to court.
See Photos Of The Suspects Below;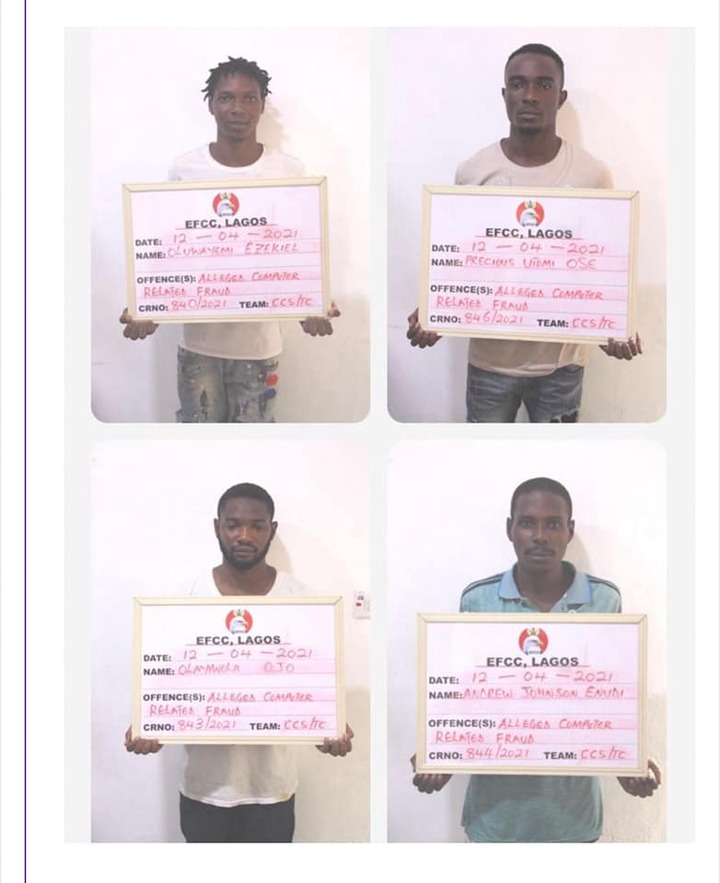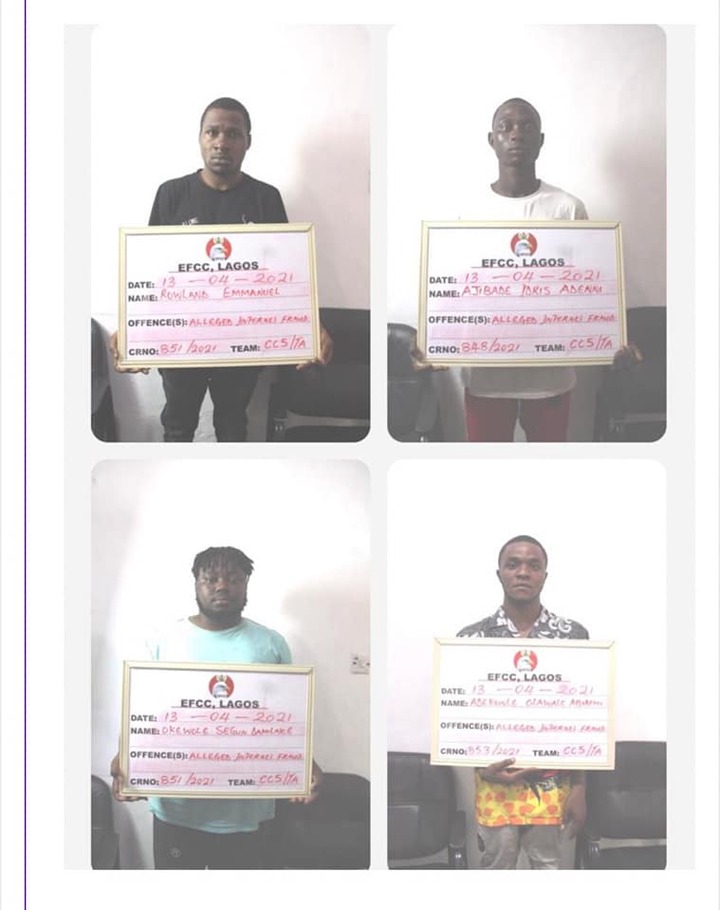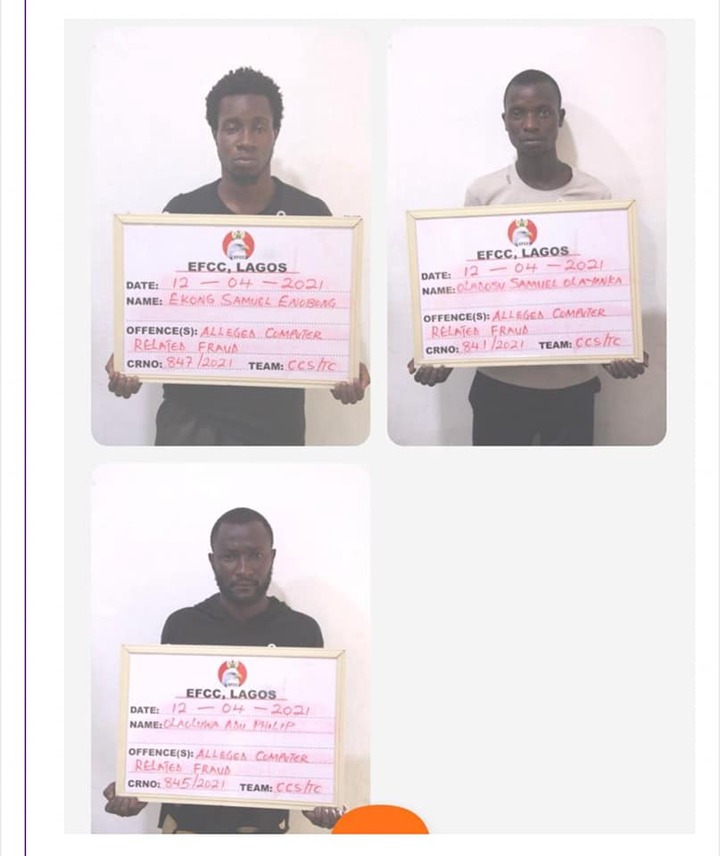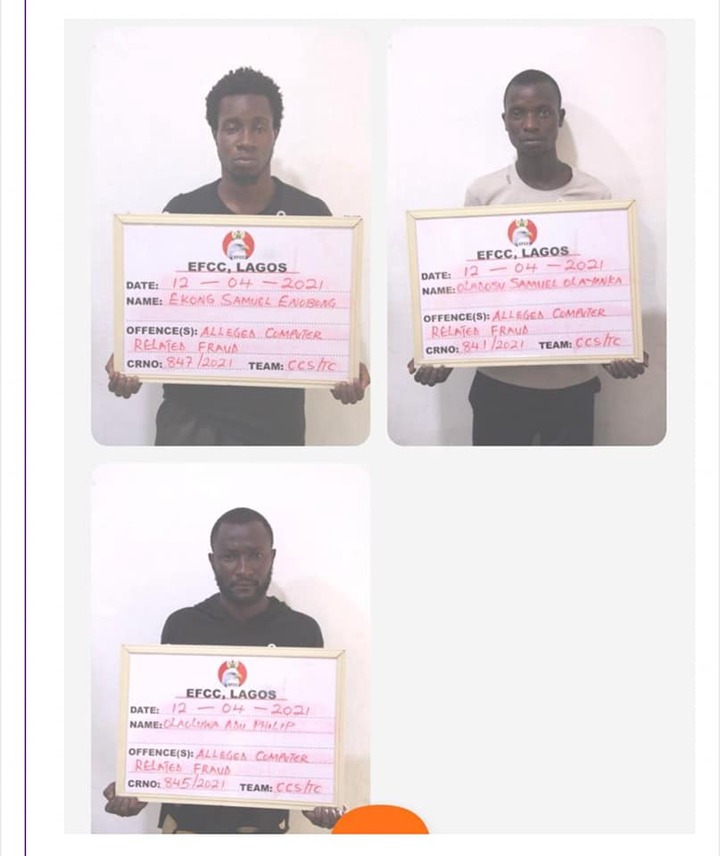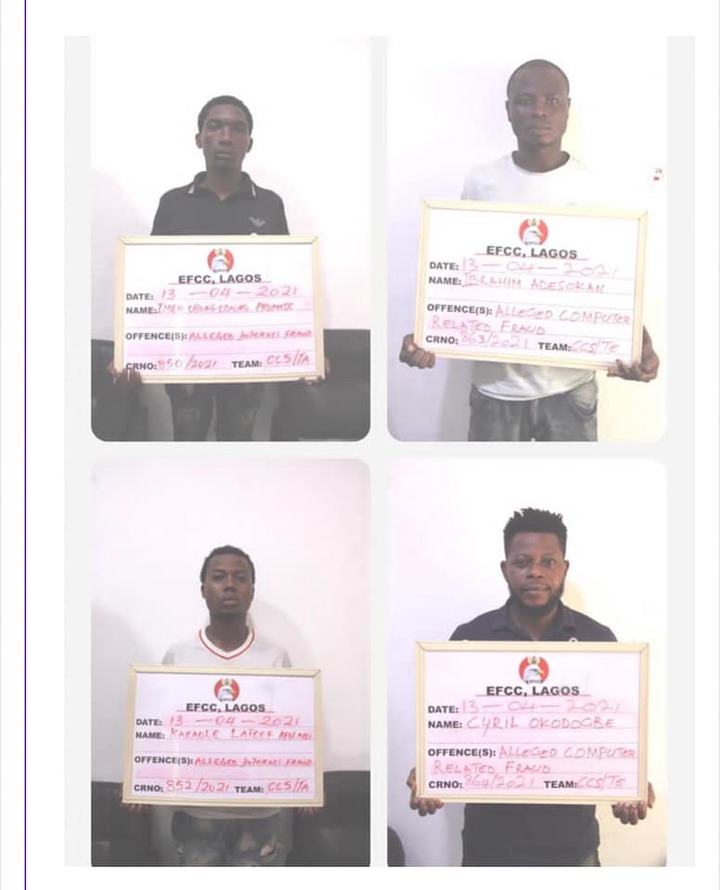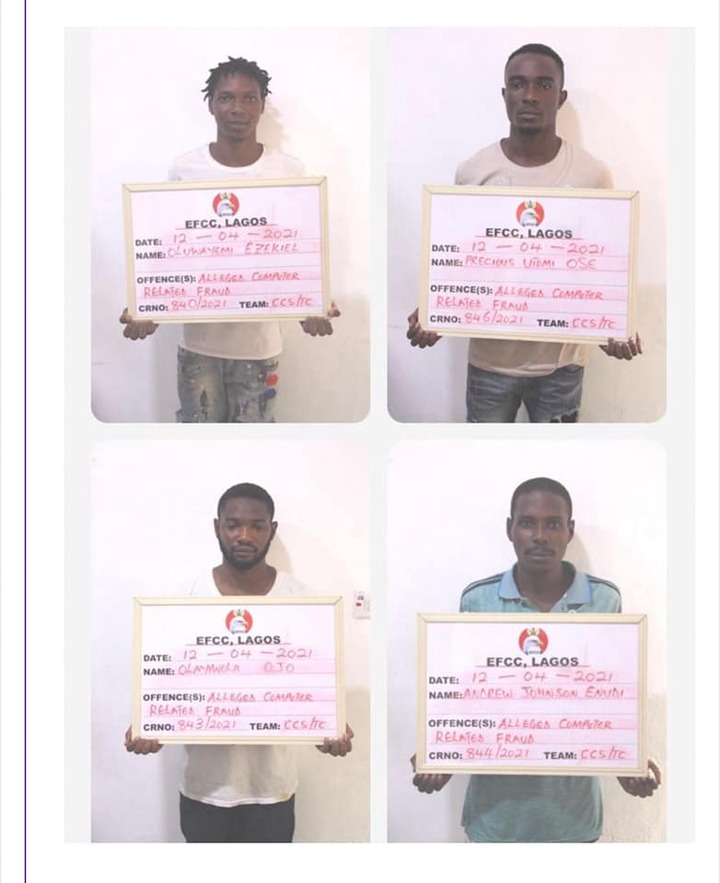 23
MARE OF EASTTOWN
is a new
HBO Max crime series
. The thriller plot about murdered or disappeared girls in a small town stars Kate Winslet in the title role. This is a character-driven story which is always a huge plus in my book. Especially with a cast like the one this crime-thriller offers.
We've watched the first five episodes and are very impatient about having to wait for the last two episodes until they air. The season has seven episodes in total and each is just around the 1-hour mark in runtime. Every episode tends to end on a cliffhanger. Also, episode 5 has a huge reveal, so we got to watch that as well.
Kate Winslet is Mare of Easttown
Kate Winslet plays the all-important title role as Mare Sheehan, which she nails. As always! Mare Sheenan is always tired, quite depressed, but in denial about it, and has a very shabby (not chic!) wardrobe. Actually, I wear most of what she does, but usually only at home when I'm relaxing. Or on very off days!
Mare Sheenan is Detective Sheenan in a small town where her dad had the very same job when he was alive. Also, she's a star in this small town, after a big basketball win 25 years ago. Welcome to small-town life where everybody knows everyone's business and nobody forgets anything.
For this reason alone, it quickly becomes a very dramatic event when a teenage girl (who is also a young mother) is found murdered. Especially since another young woman also disappeared a year earlier and still hasn't been found. Also, the disappeared girl is the daughter of someone from Mare's high school basketball team.
And then there are Mare's own issues at home. She lives with her daughter, mother, and grandson. Her teenage daughter is portrayed with so much heart by Australian actor Angourie Rice (Black Mirror), while mom is played by Jean Smart (Netflix's Dirty John).
Kate Winslet and Jean Smart are brilliant together and I cannot get enough of their scenes together. They are constantly cursing each other out and can't stand one another – and yet, they continuously choose to live together. Also, both look extremely worn out as the result of many very tough years!
An American Broadchurch
When describing Mare of Easttown with more words than the usual "local girl in a small town is murdered"-plot, it can quickly end up sounding like a straight-up drama. That isn't really the case though. Sure, there are many minor issues among characters, but that's to show just how quickly things can escalate in a small town.
In that sense, Mare of Easttown reminded me a whole lot of the extremely successful British series Broadchurch that starred Olivia Colman (Them that Follow) and David Tennant (Criminal: UK). Hopefully, we'll get more seasons of Mare of Easttown just as was the case with Broadchurch.
Alongside Kate Winslet, we also have Evan Peters (American Horror Story) as her new assistant detective from the county police department. He isn't exactly welcome since Mare prefers to work alone – and in her own set ways. He's there to help with both the new murder case and the older missing girl case.
Detective Colin Zabel (Evan Peters) is a young and eager worker, who clearly admires Mare (Kate Winslet) and wants to make a difference. After a quite dreadful beginning, the two quickly find a way to make the most of their forced working relationship.
In other supporting roles we have Guy Pearce (The Seventh Day), Julianne Nicholson (the Stephen King HBO series The Outsider), and David Denman (Brightburn).
Also, I want to highlight the young Cailee Spaeny who plays a key character. We've been seeing Cailee Spaeny quite a lot in movies such as Bad Times at the El Royale, Pacific Rim: Uprising, and most recently The Craft: Legacy. Also, she was in the FX/Hulu sci-fi series Devs.
Watch Mare of Easttown on HBO Max
All seven episodes of Mare of Easttown are directed by Craig Zobel who previously directed quite a few genre movies. Craig Zobel directed the thriller Compliance (2012), which is actually based on a real story, and the crazy and wild movie The Hunt (2020). Also, he's directed episodes of series such as Westworld and The Leftovers.
The script for this new HBO series was written by Brad Ingelsby. He's already made quite a name for himself by writing movies – often action flicks but also character-driven dramas. This is the first TV series for Ingelsby, but he has done a brilliant job, so hopefully, it won't be the last.
If you enjoy crime and thriller genres and prefer storylines with character-driven plots, then you'll love Mare of Easttown. Just prepare for the fact that the episodes often end on a cliffhanger and you'll only get one episode per week. Then again, it's probably for the best, since you'd just end up binge-watching it otherwise.
Mare of Easttown (seven 60-minute episodes) will premiere on HBO Max on April 18, 2021
.
24
The West African Examinations Council (WAEC), Nigeria wishes to inform candidates and the general public of the new modalities for the collection of Attestation of Results and printed Certificates by candidates from offices of the Council in Nigeria.
The new modalities for collection of certificates apply to Private Candidates only, as School Candidates are expected to channel their requests through their schools. The modalities for Requests for Attestation of Results shall apply to both Private and School Candidates.
The new modalities are a clear departure from what obtained in the past, where it was mandatory for private candidates to collect their certificates or Attestation of Results from the WAEC office in the state where they sat the examination. With this new initiative, candidates can apply and collect their Certificates or Attestation of Results (both School and Private Candidates) from any WAEC office of their choice in Nigeria.
Modalities for Collection of Attestation of Results and Certificates (Private Candidates) are as follows:
1. For Attestation of Results, candidates are required to make their requests from any office of the Council and pay a non-refundable fee for the service, 2. For collection of certificates, candidates are to make their requests from any office of the Council and pay the prescribed fee:
3. Candidates must state clearly the preferred office of collection of the printed Attestation of
Result or Certificate and would be required to pay for courier service for delivery to the chosen location;
4. Candidates contact details (Mobile Phone Number and E-mail Address) must be provided at the point of request
25
Snoop Dogg unveiled a brand new track titled 'Say It Witcha Booty', featuring hip-hop producer and rapper ProHoeZak. The song will be featured on Snoop's upcoming album From tha Streets 2 tha Suites.
Earlier this month, it was announced that the rapper will be joining the 20th season of The Voice as the Mega Mentor. He will be joined by coaches Kelly Clarkson, Nick Jonas, John Legend, and Blake Shelton, mentoring the remaining contestants in the Knockout rounds. As for his upcoming album, Snoop has revealed that it will be dropping on April 20 (4/20).
Listen to 'Say It Witcha Booty', featuring ProHoeZak below.
26
Georgia-raised singer/songwriter ELHAE is making his Motown debut with his latest album Aura III, the follow-up to his 2017 EP, Aura II.
The 11-track project showcases the R&B singer's melodic vocals and immense talent, creating textured songs for every occasion. The tropical-infused 'U Know' screams island vibes, while the emotional 'Separated' will have you in your feelings.
In his latest release, ELHAE isn't afraid to express what he feels through his music. "I think the 'Aura' series over time has become a bit of an escape for me, where I can let off steam and vent about things I'm going through at that current moment in my life. Much like anyone else, this is just another chapter in my life symbolizing growth and maturity."
ELHAE is well on his way to becoming a household name. His 2016 project All Have Fallen includes the fan favorites 'Doesn't Matter' feat. Kehlani, and 'Needs', which garnered over 20 million Spotify streams. In 2017, Aura II, the sequel to his independent Aura EP, ignited 24 million Spotify streams and counting. The project boasted the hit songs 'Drama', 'Something' and the popular 'Bang Your Line' featuring Ty Dolla $ign.
In 2018, the singer graced the stage of Coachella for the first time in front of 40,000 fans as he consistently worked on his music in Los Angeles, Miami, and Atlanta. Inspired by some of his favorite albums, such as Kid Cudi's Man on the Moon: The End of Day, Childish Gambino's Because the Internet, and Kendrick Lamar's Good Kid, M.A.A.D. City, ELHAE developed a vision with a detailed plotline for his next release. That vision unfolded over the course of his 12-track project, Trouble In Paradise, introducing his fans to the intoxicating first single 'Hennessy.'
Stream Aura III below and check out a jam session visual (with a mashup!) to 'My City'.
27
D-Nice Taps Snoop Dogg For 'No Plans For Love (Remix) Mp3' Ft. Ne-Yo & Kent Jones. D-Nice is back with a remix to the funky party anthem 'No More Love' featuring Ne-Yo & Kent Jones. On the latest version, the famous DJ brings on Snoop Dogg, giving the song a whole new spin to it! He took to Instagram this week and shared a snippet with fans.
The original version currently sits at No. 14 on Billboard's Adult R&B Airplay Chart. While D-Nice had been keeping us company via his Instagram Live dance party sets during these tough times, it looks like he is back to releasing music. As for Ne-Yo, he celebrated the 15th anniversary of his debut album In My Own Words earlier this year, and he is expecting baby No. 5 with his wife Crystal Smith.
Check out' No Plans For Love (Remix)' Ft. Ne-Yo & Kent Jones and Snoop Dogg below.
28
Rob Markman continues the grind as he returns with another new song today titled 'CDAT'.
This time, he decides to embrace some classic New York vibes inspired by Buckwild and shares some stories about his mindset and hustle. "Bought a couple pairs of Nikes plus a couple shares of Nike / And I'll take the $50k over lunch if Hov invites me," he raps over a beat by regular collaborator DviousMindz.
Listen to the song below. Peep his last drop 'Round & Around' here and watch his latest video 'The Dacota'
29
The much awaited news about DMX's memorial is here. It will be held at the iconic the Barclays Center on April 24th.
Family, friends, loved ones and fans will honor the legendary rapper at the arena in Brooklyn, X's former manager, Steve Rifkind told TMZ. The logistics for the event that is how many people will be allowed to attend, the ticketing process etc. are still being worked on at this time.
DMX's family and other direct contacts will then attend a private funeral service at a church in the NYC area on Sunday, April 25.
Streams for X's music soared a whopping 928% in the couple of days following his passing. X died on April 9 after a heart attack and organ failure which was reportedly a result of a drug overdose. Last night, we received his first posthumous release called 'Been to War', a collaboration with Swizz Beatz and French Montana from the upcoming season 2 of EPIX's crime drama series Godfather of Harlem.
30
« Last post by SLNAgency on April 16, 2021, 01:24:45 PM »
You watch Zombies Movies – Do they exist in real life?
A zombie crawls through the forest. When it reaches a good spot, it freezes in place. A stalk slowly grows from its head.
The stalk then spews out spores that spread, turning others into zombies.
With Halloween only a few days away, I thought this was a perfect time to talk about Zombies. For years, zombies have dominated science fiction. These creatures, the walking dead, don't actually exist, right? Wrong! There are in fact several very real life diseases that could and can make you act like a zombie.
To set the stage, let's first define what we think the characteristics of a zombie are. There obviously is no validity that people who are actually dead walk around but there are diseases that make people ACT like the walking dead. Other traits of interest would be rotting or dead flesh, a
trance-like state, inability to communicate other than perhaps moaning, a slow shuffling gait and if we're lucky the penchant for biting people. So, what are the diseases that can cause you to ACT like a zombie?
Sleeping Sickness – is prevalent in Africa and is caused by the parasite Trypanosoma brucei, which is transmitted by the tsetse fly. In the late stages of the illness, once the parasites have invaded the brain, victims find it hard to concentrate, become irritable, their speech is slurred and they stop eating. Most are unable to sleep during the night and find it almost impossible to stay up during the day eventually reducing them to a zombie-like state before going into a coma and dying. Those that survive are generally left with irreparable brain damage.
Rabies – while not a disease that is truly going to make a person bite someone, it can mimic some of the conditions of the zombie's lust
for brains. The rabies virus causes massive inflammation of the brain and is transmitted by bites from infected animals. Symptoms of rabies can include full or partial paralysis, mental impairment, agitation, strange behaviour (which I would like to be better defined as many people accuse me of acting strange....), mania and delirium. It's true, there aren't many people with rabies going around and biting other
people, but many rabid animals become very aggressive and attack so....I suppose if a person who had a tendency toward aggressive behavior got rabies, it would be possible!
Dysarthria – is a disorder affecting the motor controls of human speech. It's neurological in its origins so it ties in with the brain-based aspects of zombie lore. There are a number of causes of dysarthria, but all are characterized by a malfunction in the nervous system that makes it difficult to control the tongue, lips, throat or lungs which then leads to difficulty in articulating and can cause the inability to communicate more than unintelligible noises – quite like the moans and groans of zombies.
Leprosy – is caused by a bacterium, Mycobacterium leprae. Cases of leprosy have been reported going back more than 4000 years, and considering a common feature of zombies is their rotting flesh and decaying body parts, it would seem that leprosy and its similar sounding symptoms would be a natural inspiration for such stories! It is a myth that leprosy causes body parts to fall off, but it can cause damage and numbness which could cause slow, shuffling walk similar to the gait we associate with zombies. The skin lesions that are probably the key
characteristic of leprosy with some imagination, give skin the diseased, decaying appearance we associate with zombies.
I hope you've enjoyed this Halloween trip down zombie lane!
Bugging Off!
Nicole
Source :
Viroxanimalhealth